Commercial Roof Repair and Maintenance
ProShield's Commercial Roof Repair and Maintenance Services
Although commercial roofs use the same materials as residential roofs, they present unique installation, maintenance, and repair issues. ProShield's commercial roofers have years of experience dealing with commercial roofs that will help you to forestall these problems.
As Georgia's leading commercial roofing company, we pride ourselves in providing comprehensive and cost effective roofing services. We handle all types of roofing from standing seam roofs to commercial flat roofs and more. If your roof leaked from damage or is looking worse for wear, reach out to Georgia's favorite commercial roofing contractors at ProShield!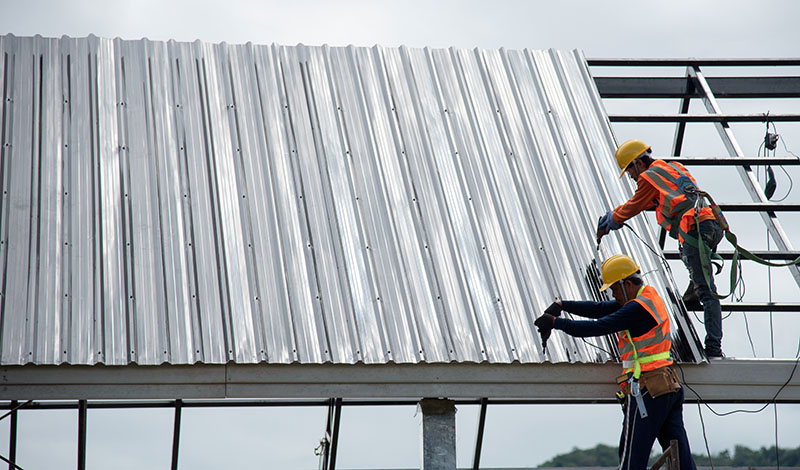 What Commercial Roof Repair Services Do We Offer?
We offer a range of commercial roofing services at ProShield Roofing, including:
Commercial roof repair. We perform any necessary roof repairs to fix leaks and damage caused by severe weather and animals.
Roof installation. We install different types of commercial roofs for new buildings.
Commercial roof replacement. We replace worn-out and damaged roofs with new ones.
Repair of roof components. We repair and replace parts of the roof that are damaged.
Commercial roof maintenance. We offer roof inspection and maintenance services to catch any problems early and keep the roof in good working condition.
How to Identify and Repair Potential Problems on Commercial Roofs
Commercial roof replacement is a costly endeavor. Property managers and building owners must quickly identify and fix common problem areas in commercial property roofs to avoid these costs. The most common signs of roof damage are:
Roof ponding is the pooling of water on a flat roof. It is a sign of either poor roof design or a failure in the roof drainage system. Over time, the water damage degrades the roof's material, which can cause even bigger problems.
To counter this, we do a detailed cleaning and maintenance of the drainage systems. We may also add roof drains to provide extra drainage.
The most common culprit for water spots is a leaking roof. Sometimes the leak may be so severe that water starts dripping inside your commercial building. Contact ProShield's expert contractors to fix the leaks as soon as possible before they cause more damage.
Cracking and crazing uncured membranes at the edge of the flashing are common shrinkage issues. They may also manifest as the flashing pulling away from the wall. Our planned roof inspections are the best way to prevent these issues, especially for single-ply roofing systems.
To fix this, our contractors will remove the flashing system and replace it with an EPDM (a durable synthetic rubber) membrane.

Our effective commercial roof maintenance plan is built around regular, scheduled inspections that can reveal problems that need to be fixed and emerging issues that will need future attention. ProShield contractors will catch these issues early to stop the damage and extend your roof's lifespan.

Our maintenance plan covers repairs, inspections, and regular care and ensures that all components stay in their right place. The drainage system will work well to prevent ponding, the edge flashing will stay in place to prevent billowing in the membrane, and any tears will be repaired immediately to protect the decking and insulation.
We take all the necessary measures to preserve your roof's membrane to withstand changing weather conditions such as wind, rain, and snow.


How Regular Roof Maintenance Will Extend the Lifespan of Commercial Roofs
Regular repair and maintenance of commercial roofs are critical to ensuring that the roof is in good working condition and no problem is left unsolved. Regular maintenance can make a difference of up to 20 years to the life of the roof. Plus, many roofing materials come with a roof warranty – so make sure to do your research!
Why Should You Choose ProShield Roofing?
At ProShield, we understand the intricacies of commercial roofing systems and the necessity for a dependable, responsive partner. Our commercial roofing repair contractors do high-quality work and adhere strictly to the set deadlines to prevent business interruptions.
You can trust our service's quality because of our vast experience and passionate customer care representatives. Contact us today to learn more about our commercial roofing services and schedule a complimentary inspection. Our staff is always available to chat with you and answer any questions.