Commercial Roof Installation in Georgia
Commercial Roofing Services at ProShield Roofing Company
Choosing the perfect roof for commercial property is a substantial investment that should not be taken lightly. At ProShield Roofing, our contractors will ensure you understand all commercial roofing options and get your money's worth.
ProShield Roofing offers excellent customer service and will be available and responsible to answer all of your roofing questions.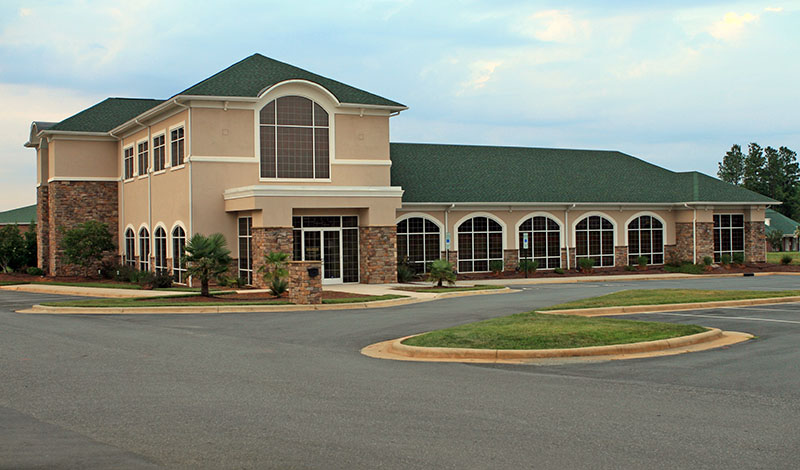 Commercial Roofing Services at ProShield Roofing Company
We understand the importance of a responsive commercial roofing company. Property managers, landlords, facility managers, insurance agents, insurance brokers, real estate agents, and real estate brokers need a solid partnership with a commercial roofing contractor they can trust.
With ProShield Roofing, you'll be working with someone who is sensitive to tight deadlines and quality craftsmanship. We have solid roots in the Monticello region and work with a vast array of business professionals. We can repair and replace roofs and gutters for: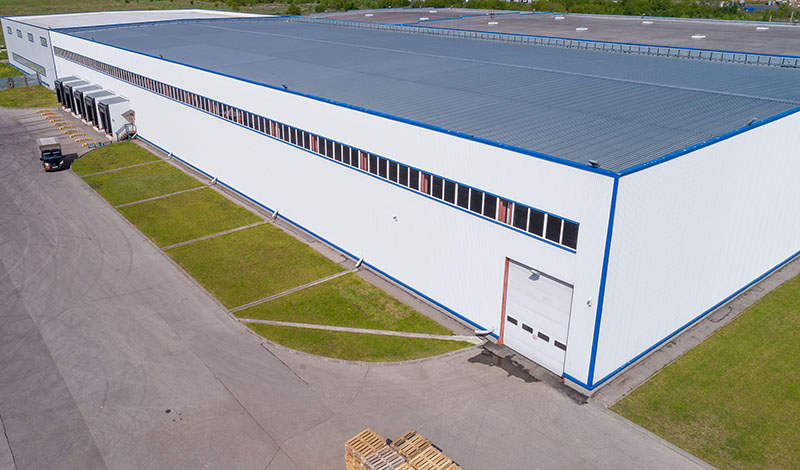 Schools
Office buildings
Hospitals
Condominiums
Small businesses
Apartment buildings
Town-homes
Government buildings
And much more
Professional Commercial Roofing Solutions
The professionals at ProShield Roofing complete your commercial roof repair or replacement quickly and will communicate with you every step of the way. We only use the best roofing materials to ensure any repairs are completely restored.
We have many roofing styles to choose from, including multiple metal roofing colors. We can provide you with an expert inspection and consultation and will advise you on the best and most affordable option to stay within your budget.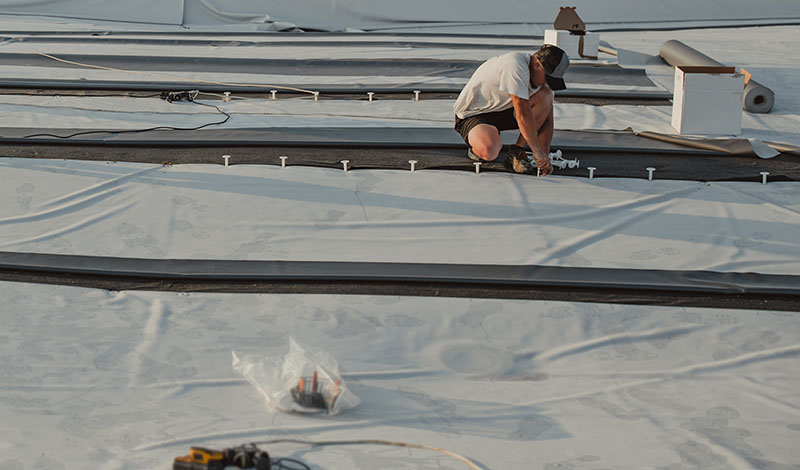 Comprehensive Roofing Projection Report
We have developed a Comprehensive Roofing Projection Report that we will give you after a thorough inspection of your commercial building.
The Projection Report will include a date-stamped assessment of the roof's condition, a 5-year timeline report that details the most urgent repairs needed along with areas of repair or replacement that can wait 3-5 years, full replacement needs compared to optional roofing repairs, and an honest assessment that includes realistic and competitive price options.
Types of Commercial Roofs Available
Commercial establishments have access to various advantageous roofing options. The common types of roofs for commercial buildings are:
BUR roofs consist of several layers of asphalt and supporting fabrics arranged alternately directly on the roof, with the final layer being gravel or stone. This roofing system works best for low-slope or flat roofs.
Modified bitumen roofs combine a unique chemical polymer and asphalt for better flexibility and temperature resistance. These roofs are well-rated against fire, hail, and wind, making them a good choice for storm-prone areas.
Single-ply membranes are available as thermoset and thermoplastic roofs. Single-ply membrane roofs are versatile and offer fire and UV resistance.
Liquid roof coatings have several liquid chemicals sprayed on the roof and thicken to form a waterproof roof membrane. They are easy to apply, lightweight, and durable.
The most common metal roofing materials are aluminum, steel, zinc, and tin. These roofs are durable, easy to maintain, and can be used on steep and low-slope roofs.
Shingle roofs come in several materials, including ceramic, slate, and asphalt. They are versatile, affordable, and easy to install.
How to Extend the Life of a Commercial Roof
As a property manager or building owner, you will want to maximize the longevity of your roofing investment. This will prevent replacement costs and safeguard the building's contents.
Here are some recommendations to help you extend the life of your commercial roof:
Invest in a regular maintenance plan where commercial roofers work to inspect the roof, handle minor roofing repairs, and identify potential problem areas.
Remove standing water, especially for flat roofs.
Be aware of when your roof's warranty expires and plan to extend coverage as needed.
Clean the roof regularly to remove debris and dirt clogging your drainage systems.
Invest in a high-quality reflective roof coating to seal and repair any leaks.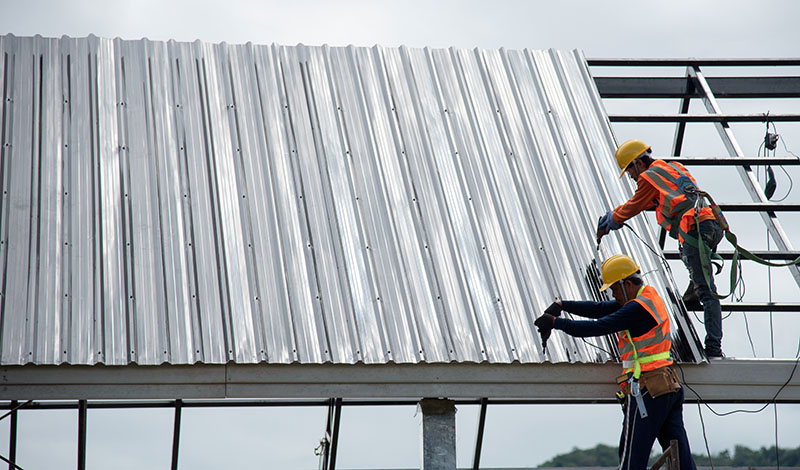 Special Considerations When Dealing With Commercial Buildings
Although commercial and residential roofs are alike in many ways, some special considerations should be accounted for when dealing with commercial buildings.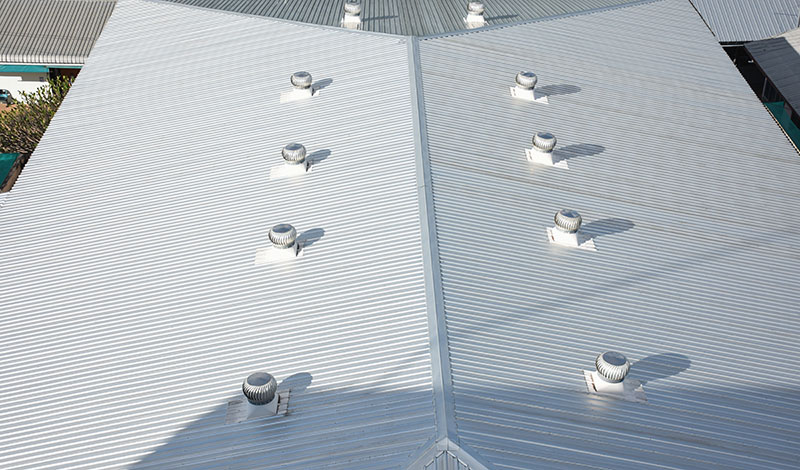 These include:
Wind load. Commercial roofs (especially for tall buildings) must be designed to withstand the potential wind uplift and other weather conditions. Therefore, factors such as installation methods, roof components, and fixings must be accounted for.
Water. Due to the flat nature of most commercial roofs, proper drainage systems are essential in preventing costly water damage.
Maintenance. Low-slope roofs are susceptible to different issues compared to residential roofs that need to be watched.
Why Should I Choose ProShield for My Commercial Roofing Projects?
ProShield Roofing is familiar with the complexities of executing a commercial roofing project. Our roofing professionals are highly skilled and use quality materials to deliver the best results.
We have exceptional customer service and years of experience in completing commercial roofing to the satisfaction of our clients. Call us today to set up a free consultation for your commercial roof.