Gutter Installation and Repair in Georgia
A Complete Guide to Our Gutter Installation Service
Gutters are an essential component of any roofing system. They collect and redirect water from your roof, which protects your home's foundation, minimizes the chance of water damage, and safeguards the siding. Their installation and maintenance are fundamental to the care of your property.
Our team is committed to providing a professional and efficient gutter installation service. We can replace existing gutters or install brand new ones, and our experienced staff are able to assess the length, type, and weight that best suit your property's needs. Our installation promises to be durable, long lasting, and as safe as possible for you and your home.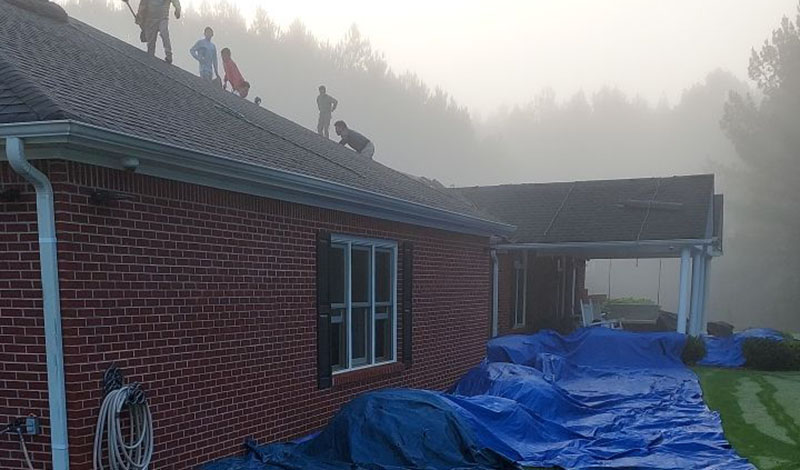 These gutters have a flat back that you can nail directly to the fascia board and often feature rectangular downspouts. However, their inner angles collect a lot of debris, making them more challenging to clean.
Although typically found on commercial properties, you can install them on residential homes to get an industrial vibe. These gutters are usually oversized and engineered to handle large amounts of water.
These gutters have a semicircular trough and a cured lip. They have a more traditional look and blend seamlessly with brick and historic properties.
Extremely strong and incredibly durable, professional installation is required for these guards which cost up to twice as much as K-style gutters.
Types of Gutters
The shape and materials used to create rain gutters provide you with various design options, so you may pick the one that best compliments your home's aesthetic. It is important to perform regular maintenance, including gutter cleaning, to ensure your gutter systems perform perfectly for years to come.
Rain Gutter Materials to Choose From
When it comes to choosing new gutters or replacing existing ones, the material you choose is just as important as the shape. Gutters come in a variety of materials—including vinyl, aluminum, and steel—that enable homeowners to install or replace them with ease. Factors like climate and type of roof can help inform your decision when selecting materials.
For example, vinyl works better in warmer climates while aluminum works better in colder climates. Stone-coated metal also offers additional protection against hail damage. Whatever material you decide upon, it's essential to understand the installation process before beginning any gutter project to ensure lasting results that blend with the aesthetic of your home.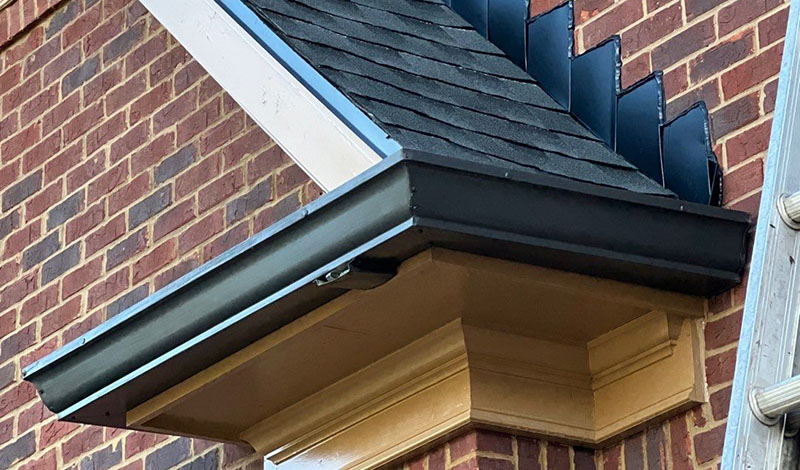 The materials most commonly used for gutters are:
Wood Gutters: They can be found in the historic district but require routine treatment to avoid rotting.
Galvanized Steel Gutters: These gutters have a long lifespan, are low maintenance, and don't rust.
Vinyl Gutters: Although their installation is quite simple, they are less durable and last an average of 10 to 20 years.
Aluminum Gutters: These gutters have an average lifespan of 10 to 20 years and are rust-resistant. However, they are more susceptible to cracking.
Copper Gutters: These gutters are made of copper sheet metal and can be uncoated or coated with acrylic or zinc. Although they are a bit more expensive, they are durable, resist corrosion, and are beautiful even without painting.
How Much Does It Cost to Install and Repair Gutters?
Rain gutter installation costs vary depending on several factors. These include the type of gutter, the property's size, the damage's extent, and the amount of work to be done.
ProShield Roofing's team of professionals has a wealth of experience and knowledge of different gutter systems and how to install and maintain them. Our gutter installers are always ready to help you resolve any problem and give you peace of mind.
Call us today to learn more about gutter installation projects, get a cost estimate, and arrange a free estimate.