Storm Damage Roof Repair in Georgia
Storm Damage Roof Repair Services at ProShield
Strong winds, rain, hail, snow, and other catastrophic weather events can wreak havoc on your roof and gutter system. ProShield offers comprehensive restoration services, including roof and gutter inspection, repair, and replacement to expedite the repair process.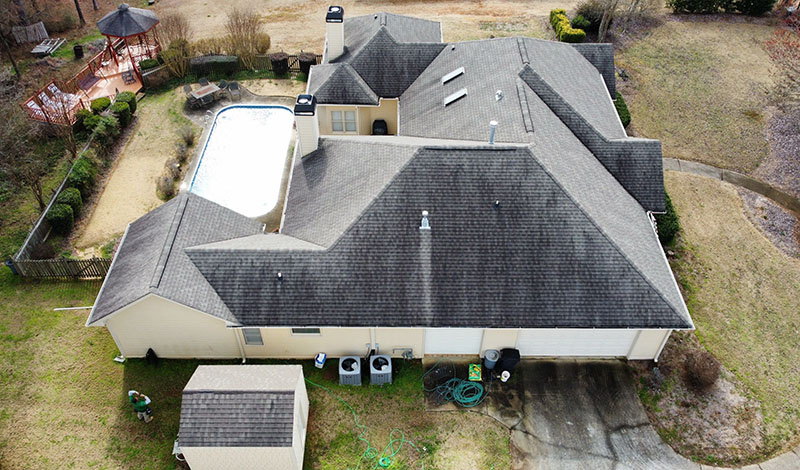 Types of Storm Damage We Repair
This is usually caused by strong wind gusts blowing at high velocity that lift your home's roof shingles, rip them away, and leave your residence vulnerable to water damage from roof leaks and more wind lift.
Our contractors will work to replace or repair any broken shingles, patch up the torn membrane, and do a full or partial replacement if needed.
While rain alone seldom causes damage to your roof, water may go through pre-existing weak spots, such as cracked shingles and missing tiles, into your roof structure and house.
Water damage requires immediate attention. Our storm damage experts will start by determining the extent of the water damage. They will then conduct emergency repairs to prevent further damage by sealing leaks and repairing the flashing, roof membrane, and gutters.
Impact damage to your home occurs when high winds cause trees, equipment, or other heavy debris to fall on a roof and destroy the shingles, tiles, and roofing frame. This puts your house at the most risk of severe roof and structural damage.
For severe impact damage, we often need to replace the entire roof. However, if only one roof plane is damaged, we can also do a partial roof replacement or repair the roof if the type of damage is minor enough.
Hail damage is one of the most difficult to identify on roofs and can go unnoticed for a while. It often manifests as bent pipes, damaged vents, and missing shingles.
Our roof contractors will conduct a thorough inspection to uncover the extent of the damage and repair it.
Storms can cause serious harm to your property and lead to costly damage repairs. If you're dealing with leaking roofs, broken windows, torn siding, or other types of storm damage, you'll want professional help to make sure any repairs are done properly and safely. We offer roofing repair services for different types of storm damage. Below we will review some of the options available.
When Should I Contact My Homeowners Insurance Provider?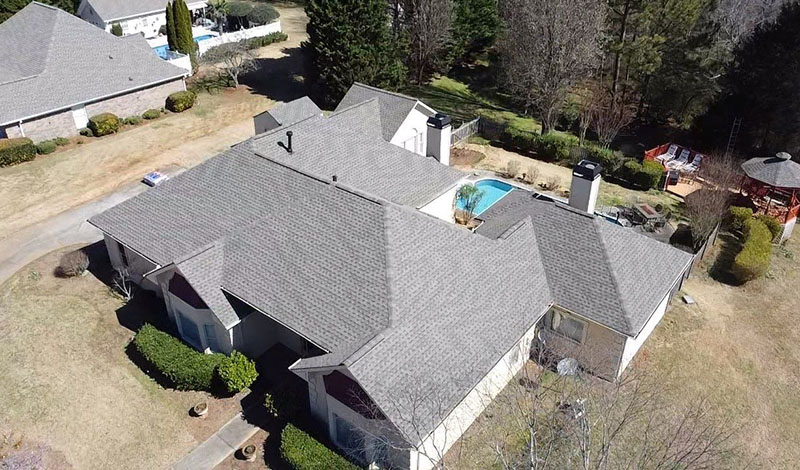 Contact your insurance company as soon as possible to report storm-related damages and file a claim. Ensure that you have comprehensive images of every area the storm has affected, whether a structural component, a decorative element, or a piece of furniture. ProShield will provide you with a full photo report of your roof.
Be accurate and honest when filing a claim with your provider. If an insurance agent learns upon investigation that the information you provided is inaccurate, they may deny all or a part of your claim.
When submitting your claim, do not limit it to storm-related damages; add the expense of your interim living arrangements. Keep the receipt and present it to your insurer if you paid for any home repairs.
Why You Should Choose ProShield for Storm Damage Roof Repair
ProShield's roofing contractors have extensive experience dealing with roof and gutter damage caused by falling trees, lightning, and other heavy debris. Our experts will assess the damage and recommend the best course of action. We also offer same-day service for emergency roof repair to limit the extent of the damage.
Our exceptional customer service team is always ready to work with you to resolve any issue you may have.
Call us today to schedule a free storm damage assessment and learn more about our storm repair services.